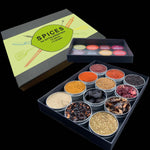 Yotam Ottolenighi has been called "a modern master" by The New York Times Magazine. He is one of Britain's most celebrated chefs and restaurateurs and he has written four best-selling books on food.
Yotam Ottolenghi is an award-winning chef and restaurateur whose recipes have appeared in publications around the world. His first book, Plenty, was published in 2014.
In the book OTK, he shares his recipes and cooking techniques with us and shows how you can prepare delicious dishes from all over the world with ingredients that are available in every supermarket today. The book is full of simple, easy-to-follow recipes that will help you get the most out of your kitchen. It also includes some of his favorite recipes from his restaurants, as well as tips on how to use leftovers creatively.
We are particularly inspired by his cookbooks and have put together two boxes of spices that he uses in his cookbooks.
Our favorite recipes are:
Ottolenghi's eggplant with lentils
Ottolenghi .'s delicious humus
My favorite recipe... Lima beans and pickled lemon
Blackened eggplant with feta and harissa oil