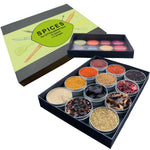 Urfa chili flakes are also called Isot biber , or Isot pepper. Urfa chilies are dried in the sun and coarsely ground. This drying in the sun ensures that they get a delicious smoky taste and their dark color.
Ottolenghi even thinks the Urfa chili flakes look a bit like chocolate. They are spicy, but not overly sharp, and can be used for anything. In Ottolenghi's cookbook SIMPEL he uses the flakes over the incredibly tasty 'Hot blackened tomatoes with cold yogurt' and through the 'Fried broccoli' and 'Kale with garlic and lime'.
Urfa chili flakes can be found in our box for Ottolenghi fans.