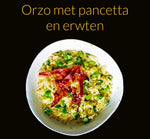 What is Orzo?
Orzo is the Italian word for barley because this pasta in its uncooked form is very similar to .... barley, in other words. For the Italians, Orzo falls under the 'pastina' a small shaped pasta usually used in soup.
(There is also a drink called orzo and is very popular in Italy. It's short for caffe d'orzo, a decaffeinated coffee substitute made from roasted barley.)
In traditional Italian cuisine, Orzo is used in soups and broths, but it's also great as a side dish and in pasta salads. It is popular throughout Europe, especially in Greece, where it is known as Krithiraki.
Orzo paste is made with semolina from semolina, which in turn is made from durum wheat.
Orzo recipes
Check out our other Orzo recipes : Ottolenghi's Orzo with feta and shrimp and the delicious summer Orzo salad with lemon.
Orzo risotto
Today we make delicious Orzo recipe 'Orzotto' Risotto made from Orzo with lots of pancetta and peas.
Ingredients:
150g

pancetta cut

into pieces 6 slices pancetta
1

red out, cut

into fine pieces 4

garlic cloves pressed

500g orzo

1.5 l

chicken broth

500g

fresh peas or fine peas from the freezer

juice of half a lemon + some lemon zest from the peel

basilucum leaves
75g

parmesan cheese, plus some extra to serve

Method:

Bake the pancetta until crispy and golden.

Remove it from the pan and set aside. Lower the heat and fry the red onion in the same pan until it becomes glassy. Add the garlic and stir for another minute.

Put the orzo in the pan and fry for 2 minutes while stirring constantly. Then add the 500ml of the chicken stock and bring to a gentle boil.

Always add some broth when it has been absorbed by the Orzo. Just like you do with Risotto.

After five minutes, add the peas and gently bring everything back to a boil.

Cook gently for about 10 minutes or until the Orzo is cooked.

Add the lemon juice, zest, parmesan cheese and basil leaves.

Season with salt and pepper and serve with some extra parmesan cheese.

Also check out the recipe of Ottolenghi's Orzo with shrimp and the summer Orzo salad with lemon.