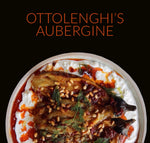 British-Lebanese chef Yotam Ottolenghi has a you-tube channel and also teaches online on masterclass.com sharing his kitchen secrets and making the most delicious dishes. Ottolenghi's cooking classes are about modern Middle Eastern cuisine and as a big fan I often watch his videos.
One of the dishes Ottolenghi made is this dish of roasted eggplant with feta and harissa oil. The eggplant is blackened blackened by Ottolenghi in the grill pan. I always do it in the oven under the grill, but of course I can also do it on a gas burner.
Blackened food is of course not known to be healthy, but you remove the blackened skin and you do not eat it.
The nice thing about Ottolenghi's dishes is that they are often made with ingredients that I often have at home, including this dish of Ottolenghi's eggplant with feta and harissa oil.
Ingredients:
2 eggplants
130 grams feta
30 grams harissa
1 tbsp lemon juice
1 tbsp honey
50 ml whole milk
15 gr pine nuts
a few sprigs of dill
coarse sea salt
60 ml olive oil
pita bread
Method:
Rub the eggplants all around with some oil.
Heat a grill pan until it is hot, set the extractor hood high and open a window .....
Grill the eggplants until they are blackened. If the skin tears open during roasting, it indicates that the eggplant is well cooked and this makes peeling when the eggplant has cooled sufficiently even easier. (I roast the eggplants in the oven under the grill function.)
If the eggplant has cooled sufficiently, you can peel them. Peel them to just below the stem and make sure the eggplant remains intact. Cut over the long side just not all the way through.
Sprinkle them with sea salt and place them on a rack or in a sieve to let some moisture leak out.
in the meantime, mix the rest of the oil with the harissa, lemon juice and honey.
Roast the pine nuts in the dry frying pan until they turn light and remove the pan from the heat.
Mash the feta and milk to a fairly smooth mass and divide them over two plates. Spread it out a little on the plate.
Place an eggplant on each plate and drip the harissa oil over and around it.
Garnish with pine nuts and serve with pita bread.
Our collection: two different boxes with Ottolenghi spices that he uses in his cookbooks. Nice to give as a gift or just for yourself.