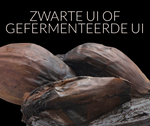 The black onion !
After the black garlic, there is now also the black onion. Black onion, also called fermented onion, is the newest gastronomic ingredient after black garlic. Like garlic, the black onion is a fermented product. At low temperature they are stored in an oven so that the fermentation process starts.
The black onion has completely changed its structure after the fermentation process. This one has become a bit sticky and viscous and is a real taste explosion. The taste is best described as balsamic like, with especially sweet, slightly licorice-like notes.
Just like the black garlic, health characteristics are also attributed to the black onion. For example, the fermentation process ensures that the substance allicin decreases and the concentration of beneficial substances increases. Reducing the substance allicin is fine because this substance makes garlic and onions difficult to digest.
The concentration of beneficial substances increases, as mentioned, during the fermentation process and the black onion, just like the black garlic, has a high antioxidant capacity and is rich in polyphenols and flavonoids. In addition, the fermented black onion (and also the black garlic) is also rich in calcium, proteins and phosphorus (twice as much as the same unfermented product).
Several black onion recipes are in the making, the links are still below .....
In the box of spices that Ottolenghi uses in his cookbooks you will find at least all the black garlic.
Three recipes with black garlic can be found here . - Mushroom soup with porcini mushrooms and black garlic
- Tortilla with black garlic
- Muhammara with black garlic
You could also very well replace the black garlic with black onion in these dishes.