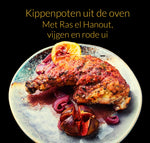 Chicken legs from the oven.
Who doesn't love it! These chicken legs from the oven with ras el hanout and figs is one of my favorite dishes to make when I have little desire or time to cook, but still want to eat well. The oven does almost all the work! Serve vegetables with it... A simple salad is great and some tasty baked potatoes taste delicious here!
Marinating chicken legs.
A chicken is nothing without marinade, and of course you have it in as many varieties as there are people. And there are a lot of marinades that are tasty for chicken legs from the oven. Lemon and pepper chicken for example, with pul biber, lemon, pressed garlic and olive oil. Or this chicken marinade from Jamie Oliver made from delicious fresh spices.
If you have time, you can leave the chicken in the marinade for a while, but you can also make some notches in the meat so that the spices can absorb well.
Ingredients:
2

chicken legs
1

tbsp Ras el Hanout spice mix from the Ottolenghi

spice box 1

dash

of olive oil

1 pressed garlic clove

3

slices

lemon

2 figs cut

into quarters 1 red onion coarsely cut

Method:

Preheat the oven to 220 degrees.

Make notches in the chicken legs of about half a centimeter. Place the legs in a baking dish.

Mix the Ras el Hanout with the garlic and some olive oil and rub the chicken with it. Make sure that there is also something under the skin, because that gives the taste.

Place the lemon in the baking dish and bake the chicken in the oven for 40 minutes.

Mix the red onion and figs with a little olive oil and place them in the baking dish.

If necessary, add some salt and pepper to taste.

Ras el Hanout means 'the best of the kitchen'. Our Ras el Hanout is specially composed for us from products of the best quality. You can find Ras el Hanout in the box with Ottolenghi spices.

Another dish with Ras el Hanout is this delicious tagine with beef and dates.