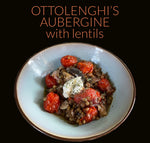 Ottolenghi eggplant
There are few things that give me more pleasure in the kitchen than taking some familiar ingredients and preparing them in a new way. That's really the case with this eggplant dish from Ottolenghi. From the cookbook of Ottolenghi Simpel
Ottolenghi
Ottolenghi already has some cookbooks to his name. The book Simple, unlike his previous cookbooks, contains no more than 10 ingredients. The result of this dish is a bit magical, unexpectedly tasty, creamy because of the eggplant. Serve as is, for a light meal, or make it bigger by scooping the sliced grilled or toasted sourdough bread. The stew can be made up to 3 days in advance and stored in the refrigerator - heat through and add the oil, crème fraiche, chili flakes and oregano before serving.
Ingredients:
3 tablespoons olive oil, plus some extra to go with
3 cloves of garlic, in thin slices
1 large red onion, finely chopped (160 grams)
1/2 tablespoon thyme leaves 2 small eggplants
, in cubes of 5 x 2 centimeters (420 grams)
200 grams cherry tomatoes
180 grams puy lentils
500 milliliters vegetable stock
80 milliliters dry white wine
100 grams crème fraîche
1 teaspoon Urfa chili flakes (or 1/2 teaspoon ordinary chili flakes)
2 teaspoons oregano leaves
salt
black pepper

Method:

Pour 2 tablespoons of olive oil into a large sauce pan with a high rim and put it on medium to high heat. Add garlic, onion, thyme and 1/4 teaspoon of salt and bake for 8 minutes stirring regularly until tender and golden brown. Spoon the contents of the pan into a bowl and leave the oil in the pan. Set aside.
Put the eggplants and tomatoes in a bowl and sprinkle them with 1/4 teaspoon of salt and generous pepper.
Heat the sauté pan with the remaining oil (you do not have to wipe it clean first) and when it is very hot add the eggplants and tomatoes. Bake them for 10 minutes over medium heat and stir regularly until the eggplant is cooked and golden brown and the tomatoes start to glow.
Add the garlic mixture and add the lentils, broth, wine, 450 milliliters of water and 3/4 teaspoon of salt.
Bring everything to a boil. Turn the heat half-high and let the stew simmer gently until the lentils are cooked, but still have some bite.

Serve warm or at room temperature, with a dot of crème fraîche, some olive oil and sprinkled with chili flakes and oregano.

TeaSaltAndSpices makes (gift) boxes with a theme.

This box contains spices by Ottolenghi from the books SImpel and Flavour.

More boxes in our

store

.