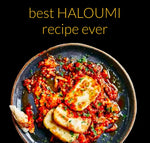 Haloumi
Halloumi is a cheese that comes from Cyprus. Haloumi cheese is made from a mixture of goat's, sheep's and cow's milk and curdled with enzymes. It's a bit rubbery in structure, somewhere between mozzarella and feta.
How to bake Haloumi
Although you can eat haloumi raw, it is best if you bake haloumi or grill and serve it with a dish. Cut the cheese into slices of about 1 cm thick and fry it in the frying pan. The cheese remains firm during baking and gets a nice crust that also becomes a bit crispy.
How does Haloumi
Haloumi taste a bit salty, not strong in taste and is best used with a dish. This dish of haloumi with eggplants and tomatoes is served lukewarm as a side dish. It is a comfort dish, deliciously creamy because of the roasted eggplant and tomatoes. Serve it with pita bread and there is not a drop of this delicious haloumi dish left.
Haloumi with eggplants and tomatoes Ingredients:
3 large eggplants

5 tbsp olive oil, plus extra to drizzle

your dish 4 cloves finely chopped garlic

cloves 4 tomatoes cut

into small pieces 2 tbsp tomato paste

2 tsp cumin

2 tsp smoked paprika powder

1/2 tsp dried chili flakes

1 bay leaf

a pinch of caster sugar

the juice of 1/4 lemon

a small handful of coriander leaves
300 g halloumi, sliced
1/2 cm warm pitta bread to serve

With method:

Prick the eggplants all around with a skewer. Place some silver paper around a medium-sized gas flame. Now carefully place the eggplant on a moderate gas flame and grill it on each side for 3 to 4 minutes, turning a few times until they are cooked. The flesh should complement gently if you put a skewer through it. If you have a grill in you, you can also put the eggplant under the grill or roast and cook it in a grill pan. The eggplant is blackened, this does not seem so healthy but the black part is completely removed if the eggplant has cooled down enough to process it. Then cut off the top and finely chop the flesh.
Heat 3 tablespoons of oil in a pan over medium heat. Add the garlic and fry it for 30 seconds. Add the tomatoes, tomato paste, cumin, bell pepper, chili flakes, bay leaf and sugar. Season with a good pinch of salt. Add 100 ml of water, mix well and bring to a boil. Cover, lower the heat and simmer for 10-12 minutes, stirring occasionally, or until the tomatoes have broken off.
Now add the eggplants to the tomato sauce and heat for another 10 to 12 minutes. Then add the lemon juice.
In the meantime, bake the slices of haloumi in a dash of oil until the sides turn golden.
Serve everything on a plate with coriander over it and with pita bread.

TeaSaltAndSpices makes

spice boxes with a theme.

he uses in the cookbook

'Ottolenghi Test Kitchen' Shelf Love

.