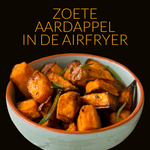 Sweet potato with herbs and rosemary from the airfryer. Sweet potato is healthy and tasty. Because the sweet potato contains a bit more moisture than the regular potato, it is a bit difficult to get it nice and crispy. But with two of these tips, that will certainly work.
Because (sweet) potatoes contain a lot of starch, they are less likely to release their water during baking than low-starch products. This moisture that the potatoes naturally contain can prevent it from becoming crispy in the oven. To make crispy sweet potatoes from the oven, you can soak the potatoes in water an hour or two in advance. This removes a lot of the starch, so that the moisture easily escapes from the potatoes later in the oven. After soaking, rinse them well and pat them dry to remove any loose starch.
Use a little cornstarch over the potatoes when you have patted dry, this will also cause them to become extra crispy.
Ingredients:
2 to 3 sweet potatoes cut into cubes or fries.

1 tsp smoked paprika

1/2 tsp Aleppo pepper

a few sprigs of rosemary

1 tsp maizena

Method:

The sliced potatoes are soaked in cold water for 2 hours.

Rinse well after two hours and pat dry.

Put them in a plastic bag with the herbs and the cornstarch and shake them well so that the herbs and cornstarch are well spread over the potatoes.

Heat the airfryer to 180 degrees and bake the potatoes nice and crispy.

Serve with a sprig of rosemary. Sweet potato from the airfryer is versatile, it is delicious with falafel, as a filling of a taco or with feta and vegetables.