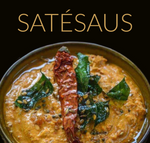 Satay sauce (or peanut sauce) made from peanut butter is very easy to make yourself and so delicious that you never want a sauce from a package again. The recipe of the sauce with peanut butter is very quick and easy. If you want to make it completely to your own taste, you can also make it with unroasted peanuts.
You do need a food processor and it is a bit more work because you have to bake it in the oil beforehand, but it is very tasty.
And if you are still busy with peanuts, it is also nice to roast peanuts yourself with garlic and pepper. How you do this best I describe at the bottom of this page.
Ingredients for the satay sauce:
200 grams unroasted peanuts or peanut butter

250 ml milk (this can also be almond milk or coconut milk)

a piece of ginger very finely chopped

A small onion very finely chopped

2 cloves garlic pressed

1/2 teaspoon red chili
1 teaspoon turmeric

1 tablespoon soy sauce manis

brown sugar or palm sugar to taste

a pinch of salt

Fresh djeroek poeroet leaves, nowadays often available at the better sorted toko's.

Method:

If you make the satay sauce with peanuts, fry it in a small layer of peanut or sunflower oil until they are just golden brown. When they have cooled slightly, you can grind them in the food processor to the desired smoothness.

Put a small dash of oil in a saucepan and fry the ginger, garlic and onion on a low heat for a few minutes until the onion is glassy.

Add the chili and turmeric with the soy sauce manis.

Now add the peanut butter together with a dash of milk to all the ingredients, it burns quickly so keep the heat low and keep stirring.

Add milk until you have obtained the desired thickness.

Now season with some sugar and a pinch of salt and possibly add some chili if you don't find it spicy enough.

Garnish with some chili, and some djeroek poeroet leaves.

The sauce is not only delicious with satay but also with dishes such as gado-gado, tempeh, spare ribs but also very nice to serve with rice rolls with shrimp.

Garlic peanuts with pit, roasted peanuts from the oven.

Roasting peanuts in the oven is very easy. The good thing is that you know for sure that no additives are used. To do this, use unroasted peanuts. Per 100 grams you press two garlic cloves and mix this well with your hands through the peanuts so that the taste is well distributed. Preheat the oven to 150 degrees and place a sheet of baking paper on the plate. Finally, add a pinch of Aleppo pepper to the peanuts and serve with a slice of lemon and some spring onion.