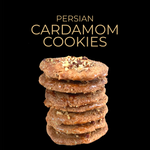 Persian cardamom cookies
In Persian cuisine, many subtle seasonings are used such as rose water, orange blossom, saffron and dried lime. Persian cuisine has a special taste palette such as these cookies with cardamom.
The best cardamom comes from India and is also chewed there as a breath freshener. It is also called the 'King of spices'. It is one of the most expensive spices in the world (after saffron and vanilla). The taste of cardamom is
green cardamom is lemony, slightly flowery with a hint of eucalyptus.
Cardamom is used in many types of dishes. In India and Asia, it is used in curries and sweets. In Scandinavia and in the Netherlands it is used in pastries and sweet dishes. In Middle Eastern cuisine is one of the ingredients for Ras el Hanout or Turkish coffee.
It is best to use the seeds for these cookies and grind them finely. The use of fresh cardamom seeds gives the best taste and smell. If you use cardamom powder, a little more of this should be used.
Ingredients:
150 grams wheat flour
125 grams soft butter
70 grams powdered sugar
1 tsp finely ground cardamom seeds
1 pinch of salt
1 egg white
A handful of pecan nuts finely chopped for garnish

Method:

Mix the soft butter with the powdered sugar until it becomes a soft cream.
Add the wheat flour, cardamom and pinch of salt and knead it quickly into a dough.
Wrap it in plastic and let it set in the refrigerator
for 2 hours Form of the stiff dough balls of about 17 grams.
Form them into a cookie and brush them with beaten egg white
Sprinkle some pecan nuts over them
for about 20 minutes of cooking in the oven at 175C