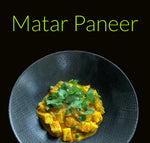 Emma de Thouars has released a new cookbook 'Amazing Asia Vega' . Emma is a culinary writer with a great love for Asian cuisine and, for example, also posts a piece about her eating adventures in Asia on Instagram every day around dinner time.
She has now published two books and is even working on a third. I was recently introduced to her delicious book Amazing Asia Vega in which she describes her favorite dishes.
I especially love this book because it works with all kinds of delicious fresh spices and herbs. Nothing is as tasty as grinding your own spices before cooking. The smell alone is a party, but the taste is also much better if you grind your spices yourself. Just with a simple coffee grinder that you reserve for this.
I made the Matar Paneer from her book.
Paneer is a hearty Indian cheese, greasy and extremely filling. Matar is Indian for peas, the other main ingredient in this dish. The sauce is gently boiled until the oil is released, this ensures that it becomes a rich and tasty dish.
Ingredients for 2 people:
1 red from peeled half coarsely chopped and half finely chopped
neutral oil to fry
in 1 clove garlic finely chopped
1.5 cm fresh ginger finely chopped
1 tomato
1/2 tsp cumin seeds
1/2 tsp chili flakes (grinding)
1/2 tsp coriander seeds (grinding)
1/2 tsp cumin seeds
1/2 tsp turmeric
10gr fresh coriander finely chopped including stalks 1 tbsp whipped cream
200 gr paneer
100 gr peas
1/2 garam masala

Fry half of the onion on a medium heat until it discolours slightly, then add the ginger and garlic.
Chop the tomato into pieces and bake everything for 3 minutes until the tomato is soft. Put the contents of the pan in a small blender and puree. (this is also possible with the hand blender.)
Wipe the pan clean and heat a few spoonfuls of oil, frying the cumin seeds fragrant for 30 to 60 seconds. Be careful not to burn.
Add the onion and bake for 3 minutes.
Add the ground chili powder, coriander powder and turmeric powder and bake for 1 minute.
Add half of the coriander with the whipped cream to the pan and bake for 1 minute. Add the tomato sauce. Let it boil down under constant stirring until the oil is released, about 5 minutes.
Meanwhile, cut the paneer into cubes of 1x1 cm. Add the paneer and peas and 100 ml of water to the pan. Put the lid on the pan and let it simmer gently for 3 to 5 minutes.
Remove the lid from the pan, stir in the garam masala and season with salt and pepper.
Serve with the remaining coriander as a garnish together with rice or flat bread.