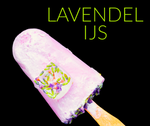 Because a person can not always drink Gin Tonic, I used the lavender from the Gin Tonic spice kit to make delicious ice creams. Do you feel like ice creams and still healthy. Then making these healthy ice creams without sugar is a super solution. Without ice cream machine and few ingredients.
This recipe is for 6 delicious Lavender vanilla ice creams.
Ingredients:
1 tbsp dried lavender
1 vanilla stick
250 ml milk
350 grams Greek yogurt
2 tbsp honey
Blue dye, I used dried blueberry powder myself.
Method:
Put the milk in a saucepan. Cut the vanilla pod in half lengthwise and scrape the marrow into the milk with the tip of a knife. Add the stick together with 1 tbsp lavender and let the milk simmer over medium heat. Put the lid of the pan on and leave for 20 min. stand. Pour the milk through a fine sieve, so that the lavender remains. Stir in the yogurt. Add some honey little by little to taste. (The mixture is now a lot more bitter and stronger in taste than the final result later after freezing.)
Add the ice cream in the molds and decorate the underside of the ice cream with fresh lavender flowers. Let them stiffen overnight.
Use all the remaining ingredients to make ice cubes with flowers, they are delicious in a glass of water with some elderflower syrup. And elderflower is full of vitamin C... :-).