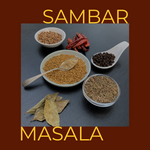 This recipe is the Masala used in the South Indian Sambaar dish, a vegetarian vegetable and lentil stew.
Sambaar is a kind of lentil soup with vegetables and is often eaten as a side dish. However, it can also be eaten very well with naan and chapati.
Ingredients:
- 3 to 5 grams of chili peppers (or to taste)
- 4 fresh or dried curry leaves (neem)
- 7 grams of coriander seeds
- 3 grams of mustard seeds
- 3 grams of cumin seeds
- 3 grams of black peppercorns
- small pinch of asafoetida
Method:
Roast the chilies and the fresh curry leaves in a dry pan until they are crispy. If you use dried curry leaves, it does not need to be roasted, but can be added directly to the spice mill. Set it aside in a bowl.
Toast the seeds and peppercorns in a dry pan until they start to smell nice. Add it to the chillies and curry leaves and let it cool.
Blend the whole into a fine powder in the spice grinder or coffee grinder. Wait to open the grinder until the powder settles otherwise the smell of the chili will irritate your eyes.
Keep it in a sealed jar, preferably in the dark.
The smell of this Masala is delicious. I make it myself in small batches because it tastes and smells best when all the spices are freshly roasted and ground. You can sometimes buy curry leaves frozen in the toko or wholesale. The fresh leaves are much tastier than the dried ones.
Asafoetida , also called asafetida or in Dutch devil's dung, is the yellow, dried resin from the roots and stems of a huge, herbaceous plant in the umbellifer family. It is used in Middle Eastern, Ayurvedic and Indian cuisines.