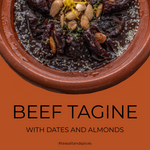 Dishes in the tagine can be cooked slowly, all the flavours of the spices can penetrate the meat and vegetables. With this beef stew you can vary endlessly, the meat can be replaced for chicken or lamb for a delicious lamb tagine or it can be made without meat as a vegetarian tagine dish.
Ingredients:
- 600 grams sukadelap
- 1 onion cut into small pieces
- 3 garlic pressed -
4 tomatoes cut into pieces -
1 winter pea cut into pieces -
1 sweet pepper cut into pieces -
2 tablespoons ras el hanout (see recipe in the Moroccan box) -
2 teaspoons cumin powder -
1 teaspoon chilli crushed - salt and pepper to taste
-
10 pieces medjoul dates -
1/2 litre vegetable stock -
1/2 candied lemon into pieces -
1 tin chickpeas For
garnishing
dates, lemon, almonds, Coriander and Parsley
Method: Cut the meat into small pieces and
marinate with the ras el hanout and salt and pepper. Fry the meat brown in some butter, store the butter and set the meat aside.
Then fry the onion, garlic lightly. Now add the remaining spices such as cumin, chilli and lemon and fry for a while.
Now add the carrot and tomato together with the meat back into the pan. Fry it for a while and add the dates and some vegetable stock. Cook gently over a low heat for 2 hours. Check occasionally and if it gets too dry add some stock. After two hours, add the peppers and chickpeas and let them cook for a while.
Serve the dish in the tagine with dates, lemon, almonds and fresh herbs. In addition, you can serve couscous or flat bread.