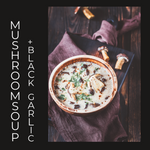 You can make this mushroom soup with oyster mushrooms, portobello or chanterelles. The porcini mushrooms should be soaked in a small cup of water for a few hours.
Ingredients:
3 tbsp butter or ghee
1 tbsp dried porcini mushrooms, broken into pieces
225 g chestnut mushrooms, sliced
225 gr other mushrooms such as Portobello, oyster mushroom or chanterelles, cut into pieces
1 onion, cut into small pieces
3 sprigs of fresh thyme
a little parsley
Salt + pepper to taste
120 ml dry white wine
5 cloves of black garlic
500 ml vegetable stock
240 ml milk (almond milk can also)
Preparation:
Bake the mushrooms and mushrooms until the moisture has largely evaporated and the mushrooms are golden brown. Remove some mushrooms from the pan and store them to garnish the soup.
Add the leaves of the thyme, onion and salt and pepper and cook until glazed.
Add the wine, milk and garlic and simmer gently for another 10 minutes.
Puree the soup until creamy and serve with a mushroom and some parsley.
Black garlic is healthy and is becoming increasingly popular. It is fermented garlic and turns black by placing it in a humid room for 30 to 40 days at an average temperature of 70-80 degrees Celsius. The humidity in this area is between 75-80%. Unlike many fermentation processes (such as tempeh or sourdough), no fungi and other starter cultures are needed. It is the naturally present sugars and amino acids in the raw tubers that cause a kind of maillard reaction (maillard reaction is the chemical reaction between reducing sugars and amino acids, this reaction causes, for example, a brown crust on the casserole.) This reaction gives the garlic a black color and a sweet taste. The structure is soft and sticky.