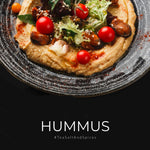 Ottolenghi's hummus is a Ottolenghi Jerusalem recipe, a book of brilliant recipes. This hummus recipe is wonderfully soft and creamy and that's because of its secret method....
Ingredients of the hummus:
- 250 grams chickpeas, washed and soaked overnight in plenty of water.
- 270 grams light tahini paste
- 1 teaspoon baking soda -
1/2 teaspoon cumin -
4 tablespoons lemon juice -
4 cloves garlic -
1 deciliter ice cold water
Vegetables: small tomatoes, green olives without pit, eggplant and zucchini cut into pieces of about 2.5 cm.
Preparation:
Drain the chickpeas and stir fry with the baking soda for 3 minutes. Put them in a pan with 1.5 liters of water and cook until tender for about 20 to 40 minutes. Always scoop off the foam and the peels, this will make the hummus look nice glass. The cooking time depends on the type of chickpea. When they are cooked they should break easily but not become mashed.
Drain the chickpeas, it should now be about 600 grams. Grind finely in a food processor and add the tahini, cumin, lemon juice, garlic and 1.5 teaspoon salt. Let the hummus rest for half an hour and if you don't use it straight away in the fridge.
For the roasted vegetables, line a baking sheet with baking paper. Grease the vegetables a little by hustling through a drizzle of olive oil. Roast them on a baking sheet for half an hour.
Remove the hummus from the fridge half an hour before use. Serve in a nice bowl with the vegetables nicely suited and a good drizzle of olive oil.