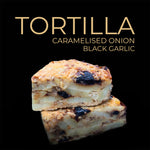 This luxurious Spanish tortilla has a special twist due to the black garlic and caramelized onion. The tortilla is originally a cheap and filling dish, but you can also make it with luxurious ingredients such as black garlic. The sweet taste of the caramelized onions goes perfectly with the umami taste of the black garlic and potatoes.
Onions are naturally full of sugar and during caramelization these sugars convert into caramel and the onions become very soft and sweet. You have to stay with it for a while to ensure that the result is completely to your liking.
You can serve a tortilla with the tapas or cut it into points and serve it with a salad.
Ingredients:
600 grams boiling potatoes

5 onions

5 cloves of black garlic cut

into pieces 2 eggs

little bit grated old cheese for over the top

good quality olive oil

A pinch of salt
Method:
Caramelizing the onions:
Cut the onions lengthwise in half and into thin slices.

Put a good dash of olive oil in the pan and fry the onions briefly.

Now put the heat on medium heat and stay with the pan.

The most important thing is that you stick with it now and occasionally scoop the onions so that they do not fry, they absolutely must not turn black.

Converting the sugars into caramel takes about 40 to 50 minutes and they turn golden brown.
The tortilla:
Cut the potatoes into thin slices of 0.5 cm

Put a good dash of oil in the pan and cook the potatoes for about 8 to 10 minutes on a medium heat, do not fry. Then allow to cool.

Beat the eggs and mix the eggs with the potatoes together with the pieces of black garlic and then add caramelized onion, about the amount of 1 onion. Save the rest.

Now arrange the potatoes with onions and garlic in a baking dish and sprinkle the grated cheese over it.

Put in the oven at 175 degrees for 40 minutes.

Serve at room temperature cut into points.
The remaining caramelized onion can be served with it but can also be stored in the refrigerator for a few days. It is delicious with cheese but also, for example, with Brussels sprouts or a piece of meat.