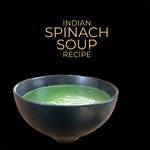 Indian spinach soup / palak soup recipe
Spinach is widely used in Indian cuisine. Well-known dishes are also called Saag paneer, (saag panir) a dish of spinach and paneer (a very young cheese). Aloo palak, a dish of spinach and potatoes and Saag bahji (Spinach curry)
This Indian spinach soup, or palak soup is deliciously creamy due to the addition of coconut milk.
Ingredients:
1 bag washed spinach

250 ml creamy coconut milk

1 onion finely chopped

1/4 tsp asafoetida

1/2 tsp cumin seeds, finely ground

1/2 tsp coriander seeds, finely ground

Method:

Put some coconut oil in the pan and fry the onion and garlic for two minutes until the onion is glassy.

Add the spices and let it bake for a while.

Add the coconut milk and 250 ml of water.

Put the spinach in it and let it shrink.

Puree the soup with a hand blender and add some water if necessary.

Add salt and pepper to taste.

Serve with a slice of lemon.