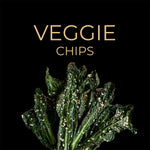 From all kinds of vegetables you can make your own chips in the oven. It is tasty and of course vegan and a nice variation on other snacks that you can serve.
I made chips from palm cabbage for this recipe but you can also very easily make chips from kale or a nice colorful mixture of kale, carrot and purple sweet potato for example.
If you do not put them in the oven for too long, they will become nice and crispy and they will still remain beautiful in color, just stay with them ....
Ingredients:
200 grams palm cabbage or kale

3 tablespoons olive oil

1 tablespoon baharat

1 tablespoon sesame seeds

1 teaspoon salt

Method:

Wash the boil and dry thoroughly between a clean tea towel.

Rub all the leaves well with the oil and spices and spread them out on a paper-lined baking sheet.

Sprinkle the sesame seeds over it.

Put them in the oven for about 5 minutes at 170C.

Each oven differs slightly in temperature, stay with it the first time so that you can keep an eye on whether the vegetables remain beautiful in color.