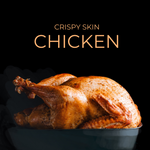 Jamie Oliver chicken recipe. Jamie Oliver has a delicious recipe for spice-spiced chicken from the oven.
This recipe is Jamie Oliver's spice mix for chicken and my own way of roasting the chicken because I like chicken with a nice crispy skin.
A chicken gets a nice crispy skin by extracting moisture from the skin. You can extract moisture by brining the chicken with salt, but this can also be done with the herb rub that we are going to make. Place the chicken in a greased baking dish and rub the spice rub well into the skin.
You must then put the chicken in the refrigerator uncovered for 8 hours so that it can extract moisture from the skin.
Before roasting, let the chicken come to room temperature for at least an hour. Put the lemon, which is cut into two halves in the belly. Also loosen the skin well with a satay prick some holes in it so that the moisture can still evaporate well during roasting.
The first fifteen minutes you put the chicken in the preheated oven at 230 degrees so that the skin can 'startle' and shrink well, then you put the oven to 180 degrees. You then roast it for about 45 minutes. If you have a cooking thermometer you can measure whether the chicken is cooked. The meat should be 75 degrees.
When the chicken comes out of the oven you let it rest for fifteen minutes, no matter how difficult that is :-), the skin then becomes even crispier and it benefits the taste.
Moreover, there is nothing like using your own spices to make your own spice mix. If you buy a spice mix in the supermarket, your dish tastes the same every time and there is often a lot of salt in it.
Required:
1 chicken of 1.5 kilos of good quality, organic or corn chicken or a French polder chicken....
1 organic lemon, polished and cut
into two Ingredients rub:
2 teaspoons fennel seeds
2 teaspoons coriander seeds
1/2 teaspoon cinnamon
1 teaspoon cumin seed
2 cardamom pods
1 teaspoon black peppercorns
1 teaspoon sea salt

Grind the ingredients of the rub well in a spice grinder, I use a cheap coffee grinder myself, which are already available from 14 euros. I do keep it especially for grinding spices. Making it as fine as possible in a mortar is of course also possible.

These delicious spices can be found in our Curry spice box .