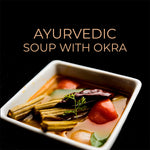 What exactly is an okra? An okra is a fruiting vegetable traditionally found in Surinamese and Indian cuisine. Nowadays you can often also buy this vegetable in the supermarket. There are few calories in it and it is a versatile vegetable that can be prepared in many ways. You can cook or bake the okras, stew, stir-fry etc.... The taste of okra is a little bit similar to a green bean.
You only have to wash the okra and cut off the top, then the okra is ready for use. Old okra is a bit chewy so make sure you buy a young fresh pod.
This recipe is an Ayurvedic soup with okra.
Ingredients:
5 small okras cut

into pieces 1 large tomato in coarse pieces

1 onion in coarse pieces

1/2 teaspoon mustard seeds

1/2 teaspoon cumin seeds

1/2 teaspoon turmeric

1/2 teaspoon chili (or more to taste)

1/2 teaspoon finely chopped ginger

1 pinch Asafoetida (hung)

1/2 tablespoon jaggery or palm sugar

2 cups water

Ghee/butter or oil

Method:

Heat the ghee in the pan and add the mustard seeds, cumin seeds and asafoetida and heat until the mustard seeds jump.

Add the onion and bake until it becomes glassy.

Add the ginger, chili and turmeric together with the tomato and cook on medium heat for a few minutes.

Add the water, the jaggery and the okra's and let it cook for about 7 minutes.