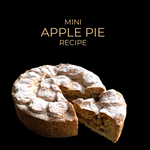 Personally, I think apple pie is a true Dutch classic with every family having its own family recipe. We associate the smell of apple pie with nostalgia and domesticity.
This mini apple pie is the classic apple pie your grandmother made it but with a ittle twist, I've added cardamom instead of vanilla to give it a wintery flavour and scent.
I like to bake small cakes, although you can keep your apple pie in the freezer there is nothing like tasty warm apple pie that comes straight from the oven. The ingredients for this cake are for a springform of 15 cm but a handy conversion table for other sizes is further down the page.
Ingredients:
80 grams butter at room temperature
160 grams self-raising baking flour
80 grams basted sugar
1 large egg
6 grams breadcrumbs
1 tsp cardamom powder
1 pinch of salt
6 ounces apples
30 grams granulated sugar
1 tsp cinnamon
6 grams breadcrumbs
icing sugar to sprinkle the cake
Method:
Beat the egg loose and keep a little apart to cover the lid.
Mix the butter with the self-raising baking flour, caster sugar and egg until a nice dough. If it's too dry, you can add some butter or some baking flour if it's still too moist.
Line the bottom and side with dough and keep the rest separate to make a lid or diamond pattern if you want to keep it completely classic.
Sprinkle the breadcrumbs on the dough from the bottom, it absorbs the excess moisture from the apples.
Peel the apples and cut them into slices.
Fill the tin in half and then sprinkle the cinnamon and sugar over the first half.
Fill the tin with the rest of the apples.
Make a lid with the rest of the dough and stick out small rounds or other shapes and place them on the top for decoration. Making a diamond pattern is also a nice classic way to decorate the apple pie.
Bake the cake for 60 minutes at 160 degrees until tender and golden brown. After 40 minutes, check that the top does not get too dark, if so you can loosely put some silver foil over it.
Allow the cake to cool and sprinkle with a sieve some icing sugar over it.
I also added a handy conversion table so you can easily convert recipes into a recipe for a jumping shape of 15cm and all kinds of intermediate sizes.