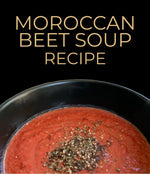 I recently read the book Ketotarian. This book about the vegan-keto lifestyle by Will Cole describes following a (mainly) plant-based diet. He is convinced that this is the best for your health. He himself has been a vegan for years and that did not bring him the health he aspired to and he has been treating patients for years as specialized doctors in 'functional medicines.'
In his book 'ketotarian', Cole's describes an approach that makes your body work most efficiently: fat burning, anti-aging and it even benefits from the health of your brain.
Personally, I find it too difficult to stick to a fully vegan and low-carb diet. When I go into the kitchen and I see those delicious roti pancakes in my drawer, I have completely forgotten about the low-carb :-). I do believe in his theory 'healthy eating, not too much, and mainly plants'. So let's work with some ketotarian recipes with fresh ingredients and self-ground spices like I prefer to make my own food.
This is a delicious vegan-keto recipe, this beet soup with an oriental twist. Delicious as a starter with a summer lunch. This soup is best if you use fresh beets and roast them in advance in the oven.
Ingredients:
3 beets

1 tbsp coconut oil

1 leek in rings

1 onion in coarse pieces

1 clove garlic
1 small packet coconut milk
1/2 tsp cumin

1/2 tsp coriander

5 peppercorns

1 handful of sesame seeds as a garnish

2 tbsp tahini

1/2 tbsp tamari

1 el za'atar

Method:

Wash the beets well and place them, covered with foil, in an ovenproof dish. Schedule them for 1 hour at 180C.

In the meantime, roast the sesame seeds in a dry frying pan.

Cut the vegetables into pieces and grind the cumin, coriander and peppercorns in the spice mill.

Remove the beets from the oven and let them cool for a while. Remove the sheet and cut them into pieces.

Stir fry the beets, leeks, onion, garlic and spices for about five minutes.

Add the coconut milk and boiling water until the beets are just below.

Cook on a low heat for 15 minutes.

Add the tahini and tamari to the soup and puree everything together. Spoon the soup into a bowl and serve with sesame seeds.