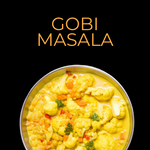 This cauliflower curry (Gobi Masala) is nice and creamy and full of fresh and dried spices and vegetables and is therefore very healthy. It is a vegan recipe, also suitable for people who follow a keto diet.
Ingredients:
1 medium cauliflower divided into florets
1 can cooked chickpeas
1 onion, finely chopped
2 cm ginger finely chopped
1 tbsp coconut oil
4 garlic cloves finely chopped
1 1/2 tsp cumin seeds
1 tbsp turmeric
1 tsp coriander seeds
2 dried chili peppers
250 ml coconut milk
One cup of water
Fresh coriander
1 tsp salt
Method:
Grind the cumin, peppers and coriander seeds finely or crush them in the mortar.
Heat the coconut oil and fry the onion for 3 minutes until it becomes glassy.
Add the garlic and ginger and stir fry for another minute.
Now add the dried spices and salt and stir fry for another minute until it starts to smell nice.
Add the cauliflower and chickpeas together with the water. Cook gently for about 15 to 20 minutes.
Add the coconut milk, taste and possibly add some salt.
Serve with fresh coriander, naan or rice.