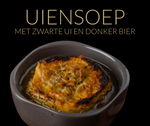 Onion soup with fermented black onion and brown beer. Onion soup used to be a bit of 'food for the poor'. Onions were cheap and you could still serve a delicious meal with them. We make a culinary onion soup with brown beer and black onion.
The bitterness of the beer is delicious with the sweetness of the black onions. Onions always have a bit of a sweet taste, especially if you let them caramelize gently. The anchovies give a salty taste to the soup.
Ingredients:
1 kilo of onions (quartered and thin rings)
2 fermented black onions cut
into small pieces 2 cloves of garlic, minced
meat 4 anchovy fillets, coarsely chopped
1 tbsp thyme
1 bottle Leffe Brown
500 milliliters vegetable broth.
2 tbsp ghee
buttered slices of baguette
Method:
Preheat the pan and put 2 tablespoons of ghee in it. Put the garlic and anchovies in the pan and let the anchovies "melt". Then add the onions and let the onions soften and caramelize gently for 15 minutes on a low heat.
Add the remaining ingredients in the pan and let it cook on a low heat for another half hour.
Put the soup in a bowl and place a slice of buttered baguette on top with some thyme. Place the bowl under the grill until the baguette turns color. If you don't have a grill, you can put the baguette in the toaster before you put it on the soup. In this case, you don't put butter on it.
Here you can find more information about the fermented black onion .