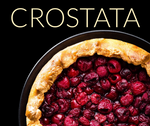 The Italian Crostata is not very well known in the Netherlands but it is the most baked cake in Italy. The Crostata is an Italian cake with fruit filling and marmalade. You can make it with seasonal fruit and marmalade in all kinds of combinations.
Because it is now cherry season I made a Crostata with cherries. With a layer of amaretti crumb on the bottom, this ensures that the moisture is absorbed. Amaretti cookies are made from ground almonds with egg whites and sugar. The taste combines very well with cherries.
Make the cake in a shape with a loose bottom of 26cm and place a sheet of baking paper on the bottom.
Ingredients:
500 gr cherries
100/150 gr good cherry jam
250 gr patent wheat flour 50 g cornstarch
125 gr icing sugar
1 1/2 tsp baking powder
a pinch of salt
150 butter at room temperature
1 egg yolks
1 egg
1 tsp grated lemon zest, only the yellow part
50 grams Amaretti pulverized into crumb
Method:
Strain the flour and cornstarch and cut the butter through the flour with two knives. Now add the egg and lemon zest. Stir the whole thing together with a fork until all the dry flour is absorbed. Knead it quickly into a dough and let it set in the fridge for 45 minutes.
Place the baking paper on the bottom of the mold and let the rest of the paper hang over the mold. Put dough in the mold and press it gently, leaving a firm edge upright. Now trim the paper.
Wash, dry and deseed the cherries.
Preheat the oven to 180°C.
Sprinkle the bottom with amaretti crumbs. Divide the cherries over the bottom. Put some small scoops of jam between the cherries.
Brush the edge with the beaten egg yolk.
Bake the cake in the oven for 40 minutes and let it cool in the tin.