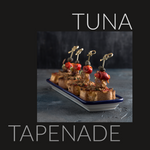 This crostini with tuna tapenade is easy to make and yet very special in taste by using black garlic in the tapenade. Serve the crostini with a nice cocktail-stick with some fried onions and grilled peppers that can just be extracted from a pot.
Ingredients tapenade:
5 cloves black garlic
4 teaspoons capers
1 teaspoon lemon zest
1 tablespoon lemon juice
1 tablespoon olive oil
1 can of tuna in oil
Salt and freshly ground pepper to taste
For the crostini and garnish:
Capers
2 grilled peppers from a pot
1 onion sliced
baguette for making crosini's
Method:
Put the tuna in a bowl and make the tuna with a fork finely to small pieces

Cut the black garlic into small pieces
Make the capers a little fine

Mix with the remaining for the tapenade ingredients in a bowl

Add salt and pepper to taste
For the crostini:
Preheat the oven to 180c.
Fry the onion rings until lightly colouring in some butter or ghee.
Cut firm slices of the baguette.
Mix some olive oil with salt and pepper on a saucer.
Grease the baguette on one side with some oil, if you have a silicone baking brush, use it and otherwise it can also be baptized by dipping the baguette in the oil on the dish.
Put the baguette on a lined baking dish and bake for about 8 minutes until golden brown.
Serve the tapenade on the crostini as seen in the photo, with the onion rings, peppers and some capers on a prick.