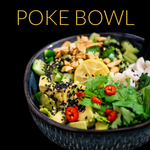 Poke Bowl
The Poke Bowl or also called Poké Bowl is originally a dish of finely chopped fish that is served both as a starter and main course in Hawaiian cuisine. I myself have come to know the Poke Bowl as a Sushi bowl, sliced fish in a bowl with all the tasty ingredients that are also in sushi.
If I sometimes think 'What do we eat today', a tasty Poke Bowl is very quickly one of my favorites. It is an easy and quick recipe with great results.
I usually eat this Poke bowl as a vegean dish with tofu but you can easily make different variations with it. A poke bowl of salmon is also delicious or make it a Poke bowl chicken by adding chicken. With mushrooms and mushrooms or a hard boiled egg if you prefer to eat a vegetarian or vegan Poke Bowl.
A poke bowl is a nice lunch or a light meal for a summer day.
I always use Udon noodles for this Poke bowl. Udon Noodles are made from wheat flour but if you prefer not to eat that you can also use the Su-oen from Go-tan, which is made from mung beans.
Ingredients
Udon noodles or Su-oen of Go-tan
1 block Silken tofu
1/2 cucumber
1 avocado
1/2 bowl snow peas
2 tablespoons salted peanuts
4 tablespoons coriander
2 tablespoons black sesame seeds
1/2 red pepper in thin slices
1 slice lemon
1 tablespoon sesame oil
Ingredients cucumber marinade

2 tablespoons mirin 2 tablespoons rice vinegar
1 teaspoon Pul Biber/Aleppo pepper (which can be found in the box with Ottolenghi spices.)

Method:

Mix the Mirin, rice vinegar and Pul Biber/Aleppo pepper in a bowl. Cut the cucumber with skin into oblique slices and place the cucumber in this marinade for at least half an hour.
Blanch the snow peas for 30 seconds in boiling, salted water and set aside.
Cut the avocado into slices and sprinkle some lemon over it against discoloration.
Boil the Udon noodles for 7 minutes (or according to the package) and then rinse with cold water. The Su-oen only needs to be soaked in boiling water for 3 minutes, which you then rinse under the cold tap.
Cut the Silken tofu into pieces and fry it briefly in sesame oil.
Divide the Su-oen over two bowls and divide cucumber, avocado, tofu, snow peas and peanuts over the two bowls. Garnish with coriander, sesame seeds and red pepper.

Variations:

Make variations by stir-frying some spinach, for example.
Cauliflower with Pul Biber/Aleppo pepper and cook 10 minutes in the oven.
Blanch carrot slices briefly and then put them in the same marinade as those of the cucumbers.
With crabsticks.
Or a poke bowl with shrimp......